Art world links which caught my eye…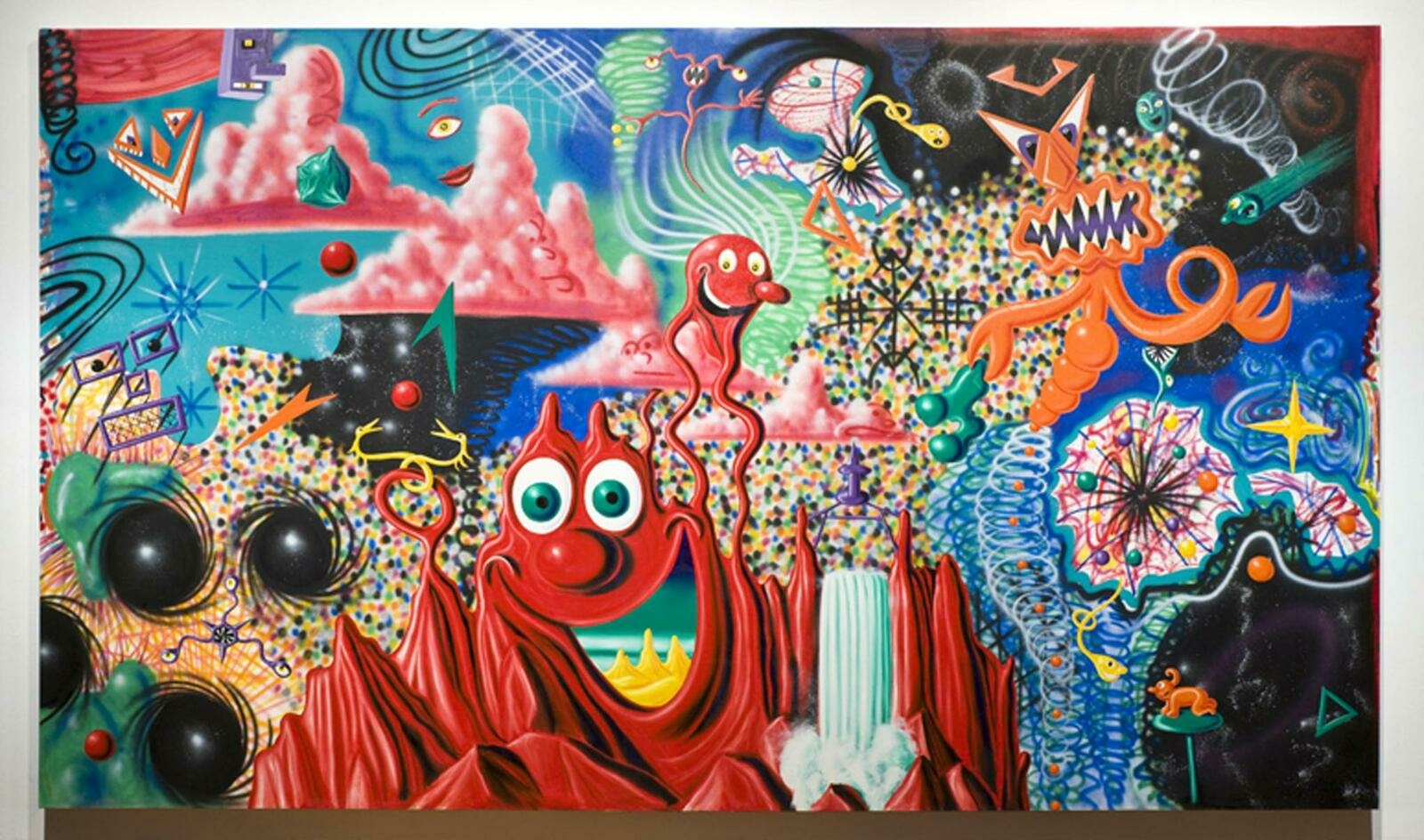 Kenny Scharf "When Worlds Collide" oil and spray paint on canvas, 122 5/16″ × 209 5/16″, 1984
art
I don't know how much joy wound up on display, once the curators got their agenda filters inserted. However, in 2017, the Whitney Museum of American Art hosted the exhibit "Fast Forward: Painting from the 1980s."
Key quote from the article:
Starting in the late nineteen-seventies, young American artists plunged, pell-mell, into making figurative paintings. That seemed ridiculously backward by the lights of the time's reigning vanguards of flinty post-minimalism, cagey conceptualism, and chaste abstraction. The affront was part of the appeal. As with contemporaneous punk music, sheer nerve rocketed impudent twentysomethings to stardom on New York's downtown scene. The powerful excitement of that moment has been languishing in a blind spot of recent art history, but "Fast Forward: Painting from the 1980s," at the Whitney, a show of works by thirty-seven artists from the museum's collection, comes to the rescue. Some of the names are famous: Julian Schnabel, David Salle, Eric Fischl, Jean-Michel Basquiat, Keith Haring. Others, less widely renowned, are solidly established: Susan Rothenberg, Elizabeth Murray, Terry Winters, Carroll Dunham. But even the relatively obscure—including such sleeper heroes as Leon Golub, Robert Colescott, Mary Heilmann, and Moira Dryer—enhance the show's sense of timely revaluing. What the moment meant, what happened to eclipse it, and how its legacy might nourish the present are questions sharply posed.
Read the full article here: THE NEW YORKER – The Joy of Eighties Art
Jean-Michel Basquiat "LNAPRK", Acrylic, oil, oil stick, and marker on found paper on canvas and wood, with rope, 72 1/4″ × 66 5/16″, 1982
**************
RICHARD BLEDSOE is a visual story teller; a painter of fables and parables. He received his BFA in Painting from Virginia Commonwealth University. Richard has been an exhibiting artist for over 25 years, in both the United States and internationally. He lives and paints happily in Phoenix, Arizona, with his wife Michele and cat Motorhead. He is the author of Remodern America: How the Renewal of the Arts Will Change the Course of Western Civilization.
**************
I don't fundraise off of my blog. I don't ask for Patreon or Paypal donations. If you'd like to support the Remodern mission, buy a book. Or a painting.
Learn more About My Art: Visionary Experience
My wife Michele Bledsoe has written her own inspirational book, Painting, Passion and the Art of Life.
Remodernism Video: BEFORE THERE WAS FAKE NEWS, THERE WAS FAKE ART
Visit other posts for more commentary on the state of the arts.
Please send any inquiries to info@remodernamerica.com. Thank you!