Art world links which caught my eye…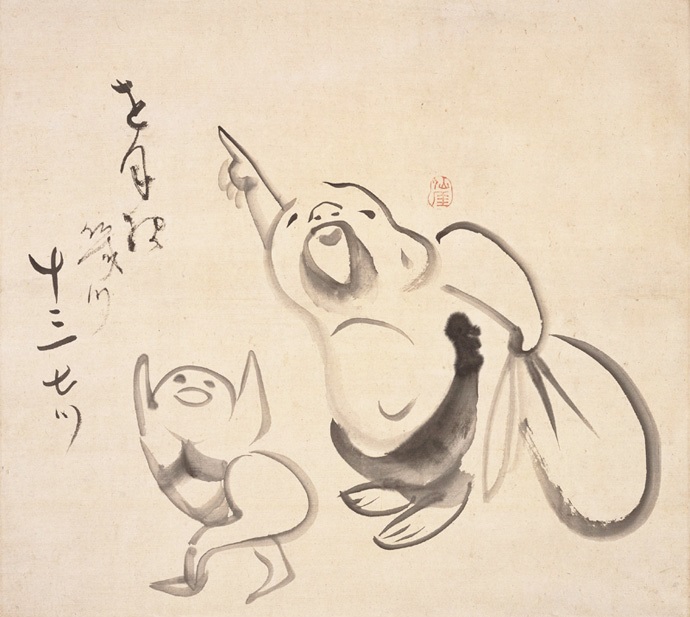 Sengai Gibon "How old are you, dear Moon? Thirteen, seven?"
The website is a little wonky, but it highlights the surprisingly modern-looking doodled parables of Zen monk Sengai Gibon (1750-1837) , accompanied by some baffling/amusing zen koans, such as: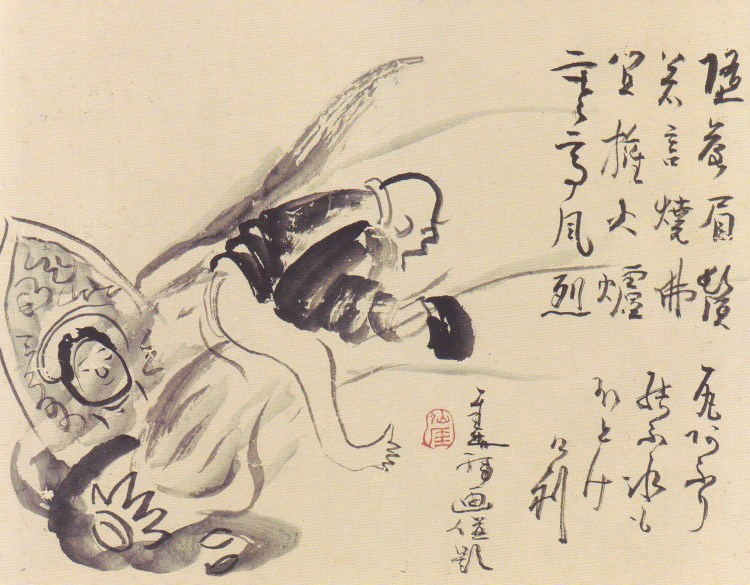 This brush painting by Sengai is about the story of the Chan monk Tianran (739-824), a disciple of Shitou. One frigid cold winter evening Tianran was staying at a temple in Changan. Chattering with cold he took one of the wooden Buddha images from the altar and burned it in the stove to warm his backside. When the temple director saw this he was shocked and exclaimed,
'How can you do such an onerous thing?'
Tianran replied, 'I'm collecting sarira [relics from cremated ashes of spiritual masters] from the Buddha image's ashes'.
'How stupid to think you can get sarira from a statue!,' retorted the monk.
'Then please hand me another, it's a cold night', replied Tanxia.

Intense frigid cold winds,
Need fuel for the hearth.
Call this roasting the Buddha?!
Your eyebrows
and beard
will be singed off!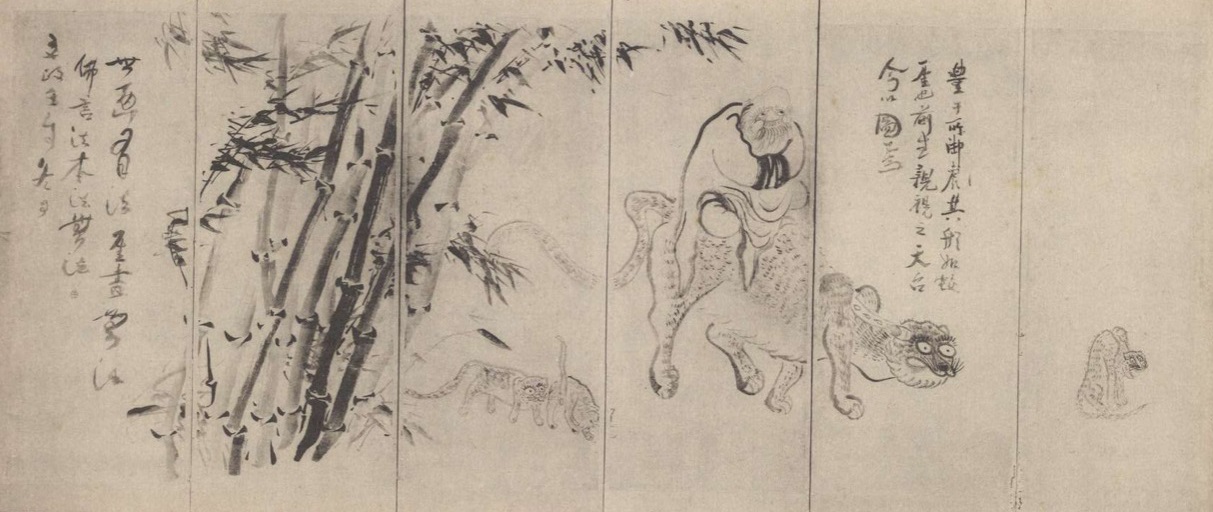 See the full article here: ZEN PAINTING by Sengai Gibon (1750-1837)
**************
RICHARD BLEDSOE is a visual story teller; a painter of fables and parables. He received his BFA in Painting from Virginia Commonwealth University. Richard has been an exhibiting artist for over 25 years, in both the United States and internationally. He lives and paints happily in Phoenix, Arizona, with his wife Michele and cat Motorhead. He is the author of Remodern America: How the Renewal of the Arts Will Change the Course of Western Civilization:
"Remodernism is not a style of art, it is a form of motivation. We express the universal language of inspired humanity.

"We do not imitate what came before. We find in ourselves the same divine essence of love and excitement which has inspired masterpieces throughout history. We are strengthened by drawing on traditions thousands of years old.

"We integrate the bold, visionary efforts of the Modern era into a holistic, meaningful expression of contemporary life. Remodernism seeks a humble maturity which heals the fragmentation and contradictions of Modernism, and obliterates the narcissistic lies of Postmodernism.

"Remodernism is the return of art as a revelation."
**************
I don't fundraise off of my blog. I don't ask for Patreon or Paypal donations. If you'd like to support the Remodern mission, buy a book. Or a painting.
Learn more About My Art: Visionary Experience
My wife Michele Bledsoe has written her own inspirational book, Painting, Passion and the Art of Life.
Remodernism Video: BEFORE THERE WAS FAKE NEWS, THERE WAS FAKE ART
Visit other posts for more commentary on the state of the arts.
Please send any inquiries to info@remodernamerica.com. Thank you!