Art world links which caught my eye…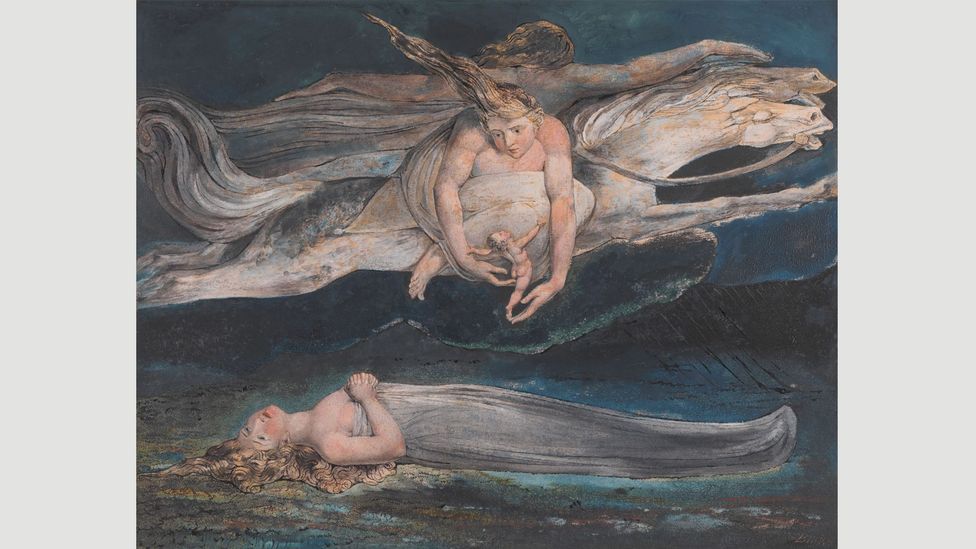 William Blake "Pity"
There was one time I was moved to tears in a museum. It was in 1997, in the Virginia Museum of Fine Arts. They were holding an exhibit of William Blake's illustrations of the Book of Job. The images were so small (about 7″ x 5″), but their impact was vast. I was overwhelmed by their presence.
William Blake "Job's Sons and Daughters Overwhelmed by Satan"
In 2019 the Tate Museum held an exhibit of Blake's work that I wish I could have seen.
Tate's comprehensive retrospective, its first in nearly a generation, features more than 300 drawings, paintings, watercolours, woodcuts, and illustrated books, and provides the perfect opportunity to explore the secrets behind Blake's ever-evolving legacy and to contemplate the emergence in popular imagination of a London eccentric whose ambition was to help us "see a World in a Grain of Sand / And a Heaven in a Wild Flower", to "hold Infinity in the palm of [our] hand / And Eternity in an hour".
See the full article here: BBC – William Blake: The greatest visionary in 200 years
William Blake "Behemoth and Leviathan"
**************
RICHARD BLEDSOE is a visual story teller; a painter of fables and parables. He received his BFA in Painting from Virginia Commonwealth University. Richard has been an exhibiting artist for over 25 years, in both the United States and internationally. He lives and paints happily in Phoenix, Arizona, with his wife Michele and cat Motorhead. He is the author of Remodern America: How the Renewal of the Arts Will Change the Course of Western Civilization:
"Remodernism is not a style of art, it is a form of motivation. We express the universal language of inspired humanity.

"We do not imitate what came before. We find in ourselves the same divine essence of love and excitement which has inspired masterpieces throughout history. We are strengthened by drawing on traditions thousands of years old.

"We integrate the bold, visionary efforts of the Modern era into a holistic, meaningful expression of contemporary life. Remodernism seeks a humble maturity which heals the fragmentation and contradictions of Modernism, and obliterates the narcissistic lies of Postmodernism.

"Remodernism is the return of art as a revelation."
**************
I don't fundraise off of my blog. I don't ask for Patreon or Paypal donations. If you'd like to support the Remodern mission, buy a book. Or a painting.
Learn more About My Art: Visionary Experience
My wife Michele Bledsoe has written her own inspirational book, Painting, Passion and the Art of Life.
Remodernism Video: BEFORE THERE WAS FAKE NEWS, THERE WAS FAKE ART
Visit other posts for more commentary on the state of the arts.
Please send any inquiries to info@remodernamerica.com. Thank you!