Art world links which caught my eye…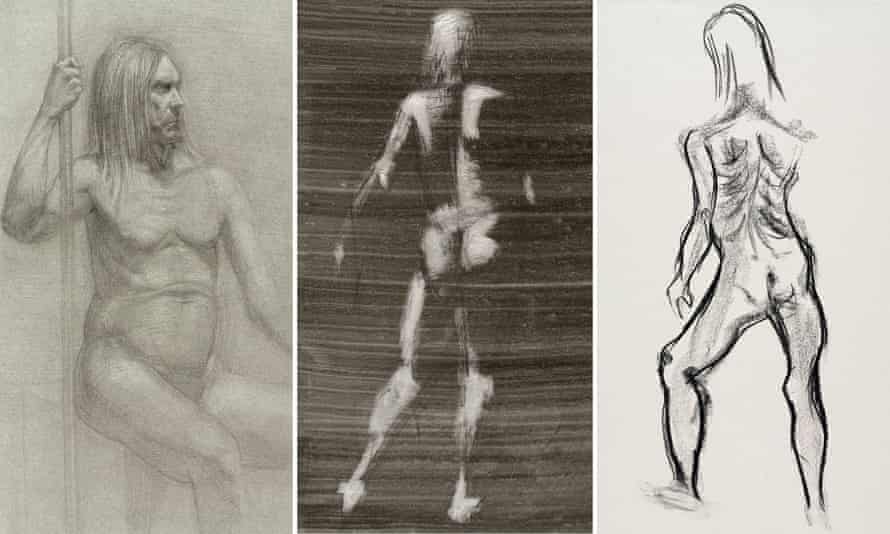 Lust for Life Drawing! Iggy Pop Poses
In 2016, rock 'n roll shaman Iggy Pop acted as a model for a special life drawing class and exhibit sponsored by the Brooklyn Museum.
Deller convinced the Brooklyn Museum, a group of local artists and Iggy himself to play along. The result, Iggy Pop Life Class, opens at the museum next month. The show involves 107 interpretations of the star's nude physique by 22 artists, ranging in age from their teens to their 80s. The museum will pair their work with objects from its collection depicting the male figure over the last few centuries: sculptures from ancient Egypt, Africa and India; drawings by such artists as Egon Schiele and Max Beckmann; as well as photographs by Jim Steinhardt and Robert Mapplethorpe.

Deller, best known for creating vast imaginative works with a political theme, first approached Iggy 10 years ago, but the star demurred. "Ten years ago I was a little too young," says Iggy, now 69, in the book that accompanies the show. "I thought I didn't have the weight. Now I feel like a lot has happened with and to my body. For some reason, it felt important for me to just stand naked for a group of human beings and have an exchange."
Read the full article here: THE GUARDIAN – Raw power – Why Iggy Pop posed naked for Jeremy Deller's Life Class
**************
RICHARD BLEDSOE is a visual story teller; a painter of fables and parables. He received his BFA in Painting from Virginia Commonwealth University. Richard has been an exhibiting artist for over 25 years, in both the United States and internationally. He lives and paints happily in Phoenix, Arizona, with his wife Michele and cat Motorhead. He is the author of Remodern America: How the Renewal of the Arts Will Change the Course of Western Civilization:
"Remodernism is not a style of art, it is a form of motivation. We express the universal language of inspired humanity.

"We do not imitate what came before. We find in ourselves the same divine essence of love and excitement which has inspired masterpieces throughout history. We are strengthened by drawing on traditions thousands of years old.

"We integrate the bold, visionary efforts of the Modern era into a holistic, meaningful expression of contemporary life. Remodernism seeks a humble maturity which heals the fragmentation and contradictions of Modernism, and obliterates the narcissistic lies of Postmodernism.

"Remodernism is the return of art as a revelation."
**************
I don't fundraise off of my blog. I don't ask for Patreon or Paypal donations. If you'd like to support the Remodern mission, buy a book. Or a painting.
Learn more About My Art: Visionary Experience
My wife Michele Bledsoe has written her own inspirational book, Painting, Passion and the Art of Life.
Remodernism Video: BEFORE THERE WAS FAKE NEWS, THERE WAS FAKE ART
Visit other posts for more commentary on the state of the arts.
Please send any inquiries to info@remodernamerica.com. Thank you!