Art world links which caught my eye…
When I was growing up, I wanted to be a film maker. I ended up becoming a painter.
The great director Akira Kurosawa went about it in the opposite way. However, he ended up using visual art to enhance his cinematic efforts.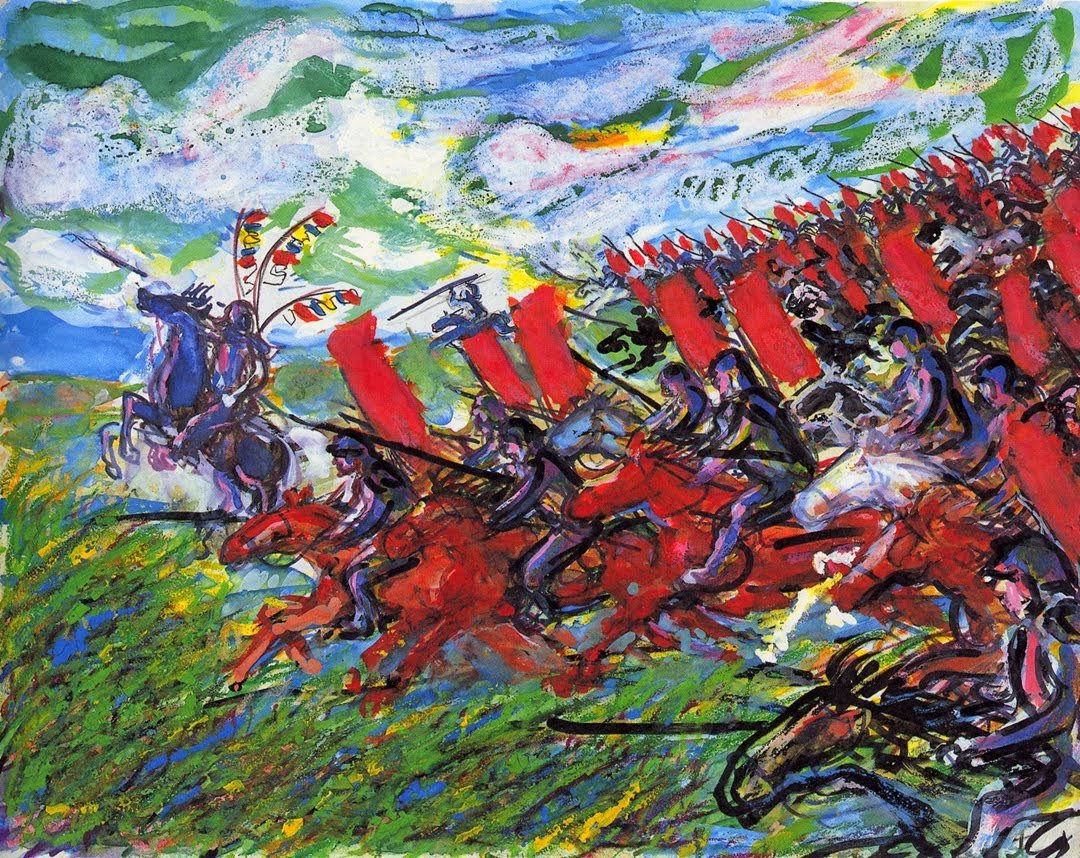 Akira Kurosawa: Storyboard Painting for the Film Ran
The great Akira Kurosawa, a famed Japanese filmmaker who directed 30 films across a career spanning 57 years, initially began life as an aspiring painter.

Kurosawa's elementary school teacher, Mr Tachikawa, was one of the first major influences on his life. Tachikawa's progressive teaching methods—which encouraged his students to draw with free will—proved to be a moment which set the foundations for Kurosawa's desire to spill his thoughts into a creative form. Set for a career in art, a young Kurosawa began focusing on the working class of his homeland, aiming to put "unfulfilled political ideals directly onto the canvas."

However, after heavy influence from his eldest brother Heigo—who was obsessed with foreign film—Kurosawa decided to live with his sibling in Tokyo and began to indulge as much cinema as he could. "I intended to be a painter before I became involved in film," Kurosawa is quoted as saying in Stephen Prince's book The Warrior's Camera. "A curious turn of events, however, brought me to cinema, where I began my present career."

Kurosawa continued: "When I changed careers, I burnt all the pictures that I had painted up until then. I intended to forget painting once and for all. As a well-known Japanese proverb says, 'If you chase two rabbits, you may not catch even one'.

"I did no artwork at all once I began to work in cinema. But since becoming a film director, I have found that drawing rough sketches was often a useful means of explaining ideas to my staff."
Akira Kurosawa: Painted Storyboard for the Film Dreams
**************
I don't fundraise off of my blog. I don't ask for Patreon or Paypal donations. If you'd like to support the Remodern mission, buy a book. Or a painting.
Learn more About My Art: Visionary Experience
My wife Michele Bledsoe has written her own inspirational book, Painting, Passion and the Art of Life.
Remodernism Video: BEFORE THERE WAS FAKE NEWS, THERE WAS FAKE ART
Visit other posts for more commentary on the state of the arts.
Please send any inquiries to info@remodernamerica.com. Thank you!