Art world links which caught my eye…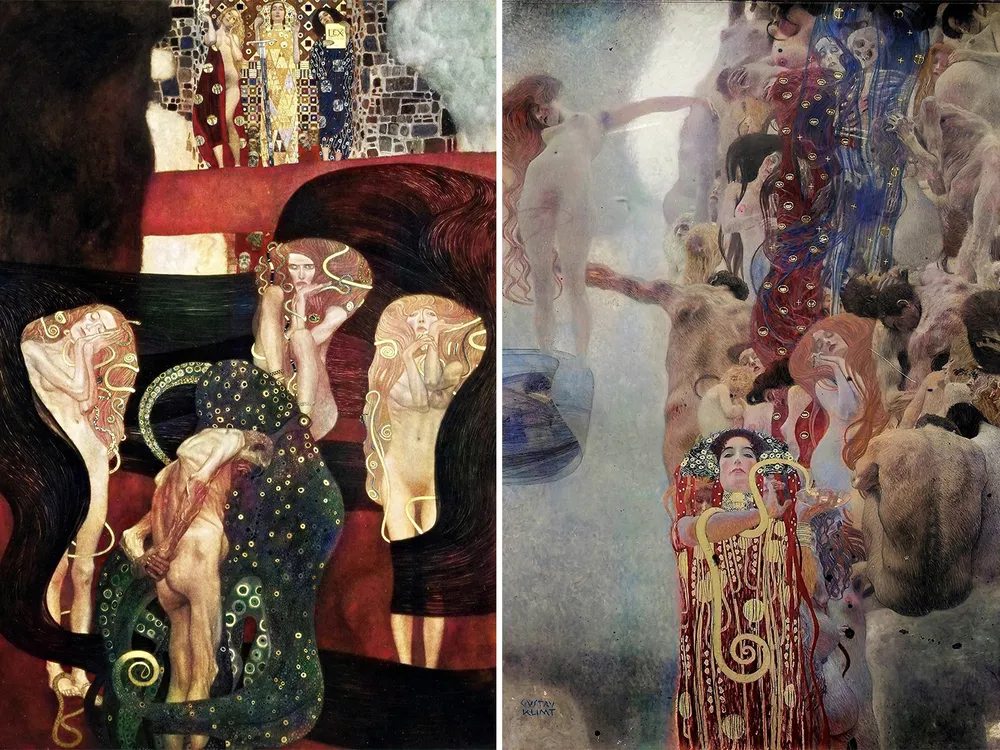 Klimt Colorized: Jurisprudence (left) and Medicine (right) 
Gustav Klimt paintings are some of the most stunning and beautiful examples of Modern art. Unfortunately, some of his art is lost. Now technology has recreated some key works.
Not all of Klimt's vibrant paintings survive today. Nazi looting during World War II led to the destruction of many prized Klimt works, including the Faculty Paintings: three enormous allegorical scenes titled Philosophy, Medicine and Jurisprudence.

To study these paintings, all of which were likely destroyed in a 1945 fire, art historians have long had to make do with black-and-white photographs. Thanks to machine learning, however, researchers have now restored historical images of the Faculty trio to approximations of their original colors, offering viewers a sense of what Klimt's works looked like before their destruction, reports Mexican newspaper El Universal.
Read the Full Article Here: SMITHSONIAN – A.I. Digitally Resurrects Trio of Lost Gustav Klimt Paintings
**************
I don't fundraise off of my blog. I don't ask for Patreon or Paypal donations. If you'd like to support the Remodern mission, buy a book. Or a painting.
Learn more About My Art: Visionary Experience
My wife Michele Bledsoe has written her own inspirational book, Painting, Passion and the Art of Life.
Remodernism Video: BEFORE THERE WAS FAKE NEWS, THERE WAS FAKE ART
Visit other posts for more commentary on the state of the arts.
Please send any inquiries to info@remodernamerica.com. Thank you!