Art world links which caught my eye…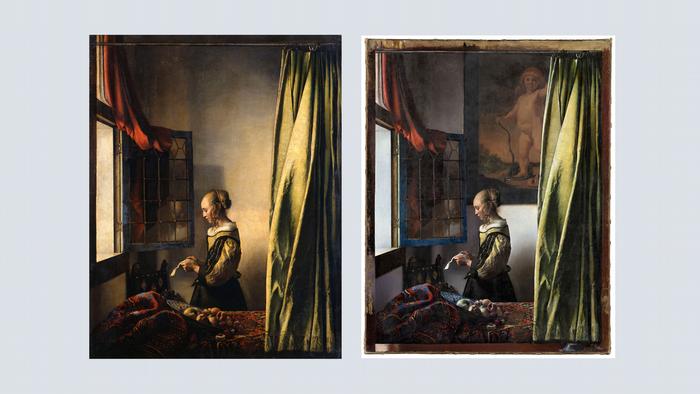 A Big Change in Meaning: Vermeer's Message was Hidden in 'Girl Reading a Letter an at Open Window'
Many significant artworks are hundreds of years old. Often those works have been altered by other hands through the years, in efforts to clumsily restore or censor their imagery. Now museums look to analyze the changes, and perhaps correct paintings to their original states.
"Uncovering parts of paintings that have been drawn over is not always as meaningful as in the case of Vermeer," says Maria Galen, expert for modern art and gallery owner in the western German city of Greven.

"Vermeer used the figure of cupid four times — as a 'picture-in-picture,'" according to Uta Neidhardt, senior art conservator at the Dresden Museum.

Research and state-of-the-art laboratory tests have unambiguously confirmed that the love god, painted in brown and ochre tones, was covered up by a different hand that also covered up the amorous statement Vermeer originally wanted to make. But the case is not always this clear.
Read the full article here: DW – How art restorers uncover hidden details in artworks
**************
I don't fundraise off of my blog. I don't ask for Patreon or Paypal donations. If you'd like to support the Remodern mission, buy a book. Or a painting.
Learn more About My Art: Visionary Experience
My wife Michele Bledsoe has written her own inspirational book, Painting, Passion and the Art of Life.
Remodernism Video: BEFORE THERE WAS FAKE NEWS, THERE WAS FAKE ART
Visit other posts for more commentary on the state of the arts.
Please send any inquiries to info@remodernamerica.com. Thank you!