Art world links which caught my eye…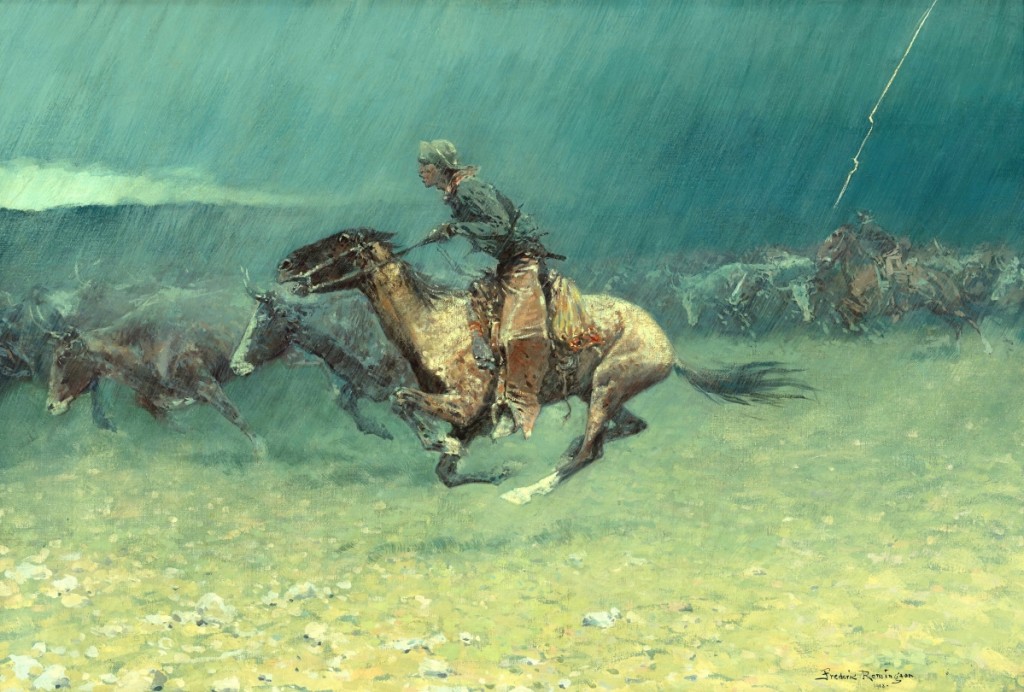 Frederic Remington "The Stampede"
Two great American painters went through their artistic peaks around the same time, despite a great difference in their ages and locations. A 2021 exhibit highlighted what they shared.
Winslow Homer and Frederic Remington are both mythic American artists. Their artworks represent what – for differing groups of art critics and consumers – have come to be seen as defining products of an "American art." Homer is seen to represent the East Coast, with his crashing waves and stoic Atlantic fisher folk, and Remington the West, with his roughneck ranch hands and romanticized Native American braves. While Homer's work was slow to catch on at first, he became one of the most respected artists of his day, and he is now universally lauded among the arts intelligentsia as a centrally important figure in the history of American art. Remington, by contrast, enjoyed wide popularity as a young artist, but since his early death his reputation has fallen among the curators, critics and academic art historians who are the keepers of the canon. It is partly for this reason that the two artists' work has never before been considered together in a major exhibition, despite their surprising number of commonalities. Seeking to redress that oversight – and, to some extent, both artists' "mythic" status – the Amon Carter Museum of Art, Portland Museum of Art (Maine) and Denver Art Museum have co-organized "Mythmakers: Winslow Homer and Frederic Remington," on view at the Amon Carter through February 28.
Read the full article here: ANTIQUES AND THE ARTS – Mythmakers: Winslow Homer And Frederic Remington
**************
I don't fundraise off of my blog. I don't ask for Patreon or Paypal donations. If you'd like to support the Remodern mission, buy a book. Or a painting.
Learn more About My Art: Visionary Experience
My wife Michele Bledsoe has written her own inspirational book, Painting, Passion and the Art of Life.
Remodernism Video: BEFORE THERE WAS FAKE NEWS, THERE WAS FAKE ART
Visit other posts for more commentary on the state of the arts.
Please send any inquiries to info@remodernamerica.com. Thank you!