Art world links which caught my eye…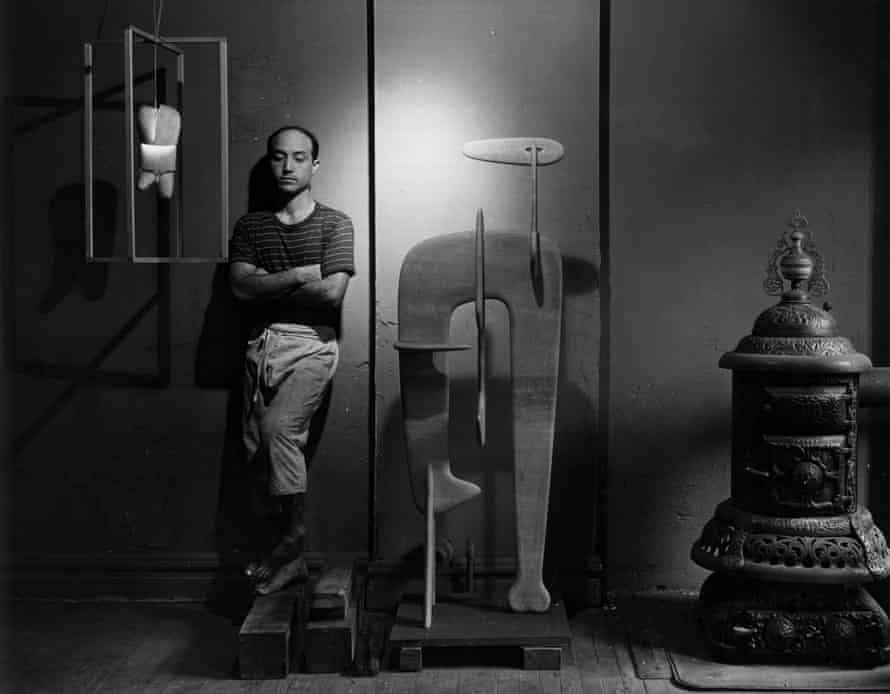 Isamu Noguchi, July 4, 1947.
On a recent exhibit on sculptor and designer Isamu Noguchi. He had a graceful touch to his works, which seemed to rile the author of this article.
Much of Noguchi's appeal lies in his in-betweenness, in his ability to move between sculpture, furniture and gardens, not to mention stage sets for the ballets of Martha Graham. If you look only at any one aspect you lose something of the whole. Among the pleasures of the Barbican show are the views you get into and across its central hall, populated with a menagerie of curious forms, an array of asteroids and UFOs as heavy as granite and as light as paper.

Some are art, some are design, not that Noguchi was too concerned with the difference. "I am not a designer," he himself said. "All my work, tables as well as sculptures, are conceived as fundamental problems of form." This is a touch sententious – I'd say someone who designs furniture is a designer – but never mind. In the end the thing that unites his output is not any profound meaning but the joy of making. His riposte to the horrors of world wars and nuclear catastrophe was, it turns out, delight.
Read the article here: THE GUARDIAN – Noguchi review – the sculptor who was high on life
**************
I don't fundraise off of my blog. I don't ask for Patreon or Paypal donations. If you'd like to support the Remodern mission, buy a book. Or a painting.
Learn more About My Art: Visionary Experience
My wife Michele Bledsoe has written her own inspirational book, Painting, Passion and the Art of Life.
Remodernism Video: BEFORE THERE WAS FAKE NEWS, THERE WAS FAKE ART
Visit other posts for more commentary on the state of the arts.
Please send any inquiries to info@remodernamerica.com. Thank you!