Art world links which caught my eye…
David Lynch "Boy Lights Fire"
Even though he is best known as a film director, David Lynch got his start as a painter. He still makes art, and as they saying goes: the way you do something, is the way you do everything. Lynch's darkness and humor shine through in the various mediums he utilizes. From 2019:
The American filmmaker known for macabre, enigmatic films such as "Eraserhead," "Blue Velvet" and "Mulholland Drive," as well as his recently revived hit 1990s supernatural crime TV series "Twin Peaks," seems to have a manic creative drive that has compelled him to explore every conceivable form of art: paintings, lithographs, black-and-white photographs, drawings, comics, collage, sculptures, stop-motion animation and even anthropomorphic design lamps.

"Yeah, I love to work," Mr. Lynch said in a telephone interview from Los Angeles, where he lives and has his studio. "Every medium is so beautiful but each in their particular way, and you learn about them by getting in there and working with them and talking with them."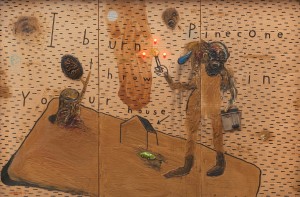 Read the full article here: NEW YORK TIMES – David Lynch's Art Peers Behind the Facade
**************
I don't fundraise off of my blog. I don't ask for Patreon or Paypal donations. If you'd like to support the Remodern mission, buy a book. Or a painting.
Learn more About My Art: Visionary Experience
My wife Michele Bledsoe has written her own inspirational book, Painting, Passion and the Art of Life.
Remodernism Video: BEFORE THERE WAS FAKE NEWS, THERE WAS FAKE ART
Visit other posts for more commentary on the state of the arts.
Please send any inquiries to info@remodernamerica.com. Thank you!