Art world links which caught my eye…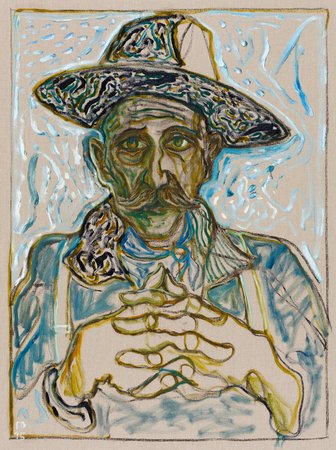 Billy Childish "Self Portrait in Hat" 2015
In 1999 English artists Charles Thomson and Billy Childish cofounded Stuckism, the first Remodern art movement. Thomson remained engaged and guided Stuckism into a global phenomenon.  Childish left the group to follow his own idiosyncratic course.
In this 2015 interview, Childish shares his philosophy on creativity and life.
I don't look for validation from other people. In music, I never thought that we weren't as good as anybody else. I thought we were better than anybody else. When we were in the Pop Rivets and we made our records, people asked us if we wanted to be successful. Even as 18-year-old kids, we said, "As far as we're concerned, we are successful. We're doing what we want to do." I'm probably a bit like that it painting as well. I'm innately confident, even in inability.

The thing I like about painting, you see, is painting. I'm not interested in the aftermath so much. I just happen to be someone with an artistic nature, so I like doing art. That's something that plays out, but it doesn't define me. The paintings rely on me—I don't rely on the paintings. They're just stuff. They do have some value to some people, but, really, anything that's any good will hopefully lead you to you, not to the object. We're looking for ourselves, not to own the Mona Lisa…

You have to have the guts to engage with your own spiritual journey, which is what life is for. It can be reflected in art, but art won't take you there on its own. It's not good enough. You actually have to use your inquiring mind and question yourself and the bullshit of things. You have to avoid getting tied up in intellectual and ironic gameplay, which will not liberate you. We want freedom, we want liberation, and you're not going to get it in postmodernism. You're going to get it through authentic engagement.
Read the full article here: ARTSPACE – "Talent Is Vastly Overrated" Billy Childish's Anti-Guide to Succeeding in the Art World
**************
I don't fundraise off of my blog. I don't ask for Patreon or Paypal donations. If you'd like to support the Remodern mission, buy a book. Or a painting.
Learn more About My Art: Visionary Experience
My wife Michele Bledsoe has written her own inspirational book, Painting, Passion and the Art of Life.
Remodernism Video: BEFORE THERE WAS FAKE NEWS, THERE WAS FAKE ART
Visit other posts for more commentary on the state of the arts.
Please send any inquiries to info@remodernamerica.com. Thank you!